John Deere agricultural machinery
Any units manufactured by John Deere Corporation demonstrate uncompromising quality, state-of-the-art technology and the broadest functionality. John Deere tractors and harvesters are legendary and tireless helpers known all over the world. Having started its journey in the USA, John Deere today is an influential player in the global market and is developing on all continents. In Moldova, farmers who have decided to buy one or another John Deere unit remain loyal adherents of this brand, leaving the most positive characteristics and feedback on the experience of using this technique.
John Deere tractors are presented in a wide range, in different power segments and for any task. These machines can meet the most demanding requirements of farmers with agricultural holdings of all sizes - from small family businesses to the largest agricultural agglomerations.
Tractors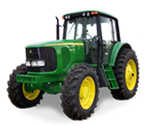 range includes several series designed to meet a variety of needs. Products include tractors for large, small and medium-sized businesses. All models are designed taking into account difficult working conditions, designed to create high tractive forces. Most of the machines are versatile and have a wide range of applications. The company offers the following groups of tractors:
universal row-crop. They include series 6 B, 6 M, 7030M, etc. The equipment is designed to perform basic tasks related to soil cultivation;
all-wheel drive. Presented by the 9R series. Tractors have increased cross-country ability, they are recommended for processing areas with difficult terrain.